Two weeks ago, I participated in the mini hackathon in Utrecht. It turned out to be quite productive and I manage to complete four different tasks. But mostly it was fun to meet wikimedians again (and they also served some tasty vegan pastries).
Wikidata based maps
First, I helped improve the map about accused witches to also have colors based on the gender of the accused person. This was done by binding the gender label to a layer. Then I also made a version for Kartographer using colors on the marker symbols.
Common properties user script for Wikidata
I have several times created a query to help me understand how a topic is modeled, by exploring which properties have a specific item as a value. There is a gadget that does something very similar to what I had in mind, Easy query. So based on that, I managed to create a user script I called common-properties.js. You can see it used in this video.
Mapframe code snippet
Similarly, I have wished for Wikidata Query Service to have Kartographer's <mapframe> as one of the code examples in the results view. I had even created a Phabricator task for it. With some excellent help from Lucas Werkmeister it resulted in a patch to gerrit. And it has already been merged!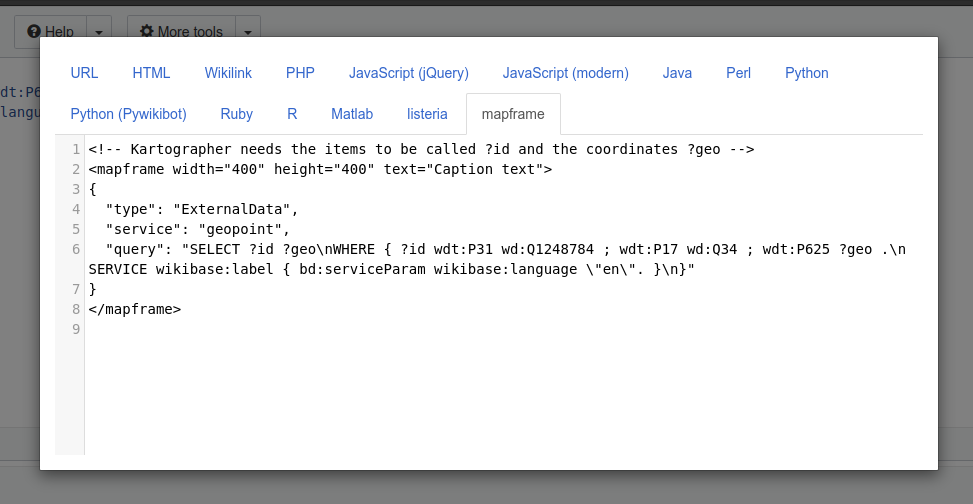 Podcast interview
With so many interesting people in one place, I couldn't resist recording a special episode in English for Wikipediapodden. I talked to Siebrand Mazeland, one of the organizers, about this hackathon and hackathon organizing in general.