I väntan på pendeltåg efter inspelning av ett avsnitt av Wikipediapodden för ett och ett halvt år sedan spelade jag in en kort snutt video av rulltrapporna med min mobiltelefon. Den laddades så klart upp till Wikimedia Commons, och min tanke var främst att beskriva rulltrappor i allmänhet.
För ungefär ett år sedan nominerade jag den till Featured media, men den tycktes då vara för enkel. Så nu i vintras dök en annan användare (Jahobr) upp och tog en kort bit av videon och gjorde om till en oändligt loopande gif. Helt genialt, resultatet är nästan hypnotiskt.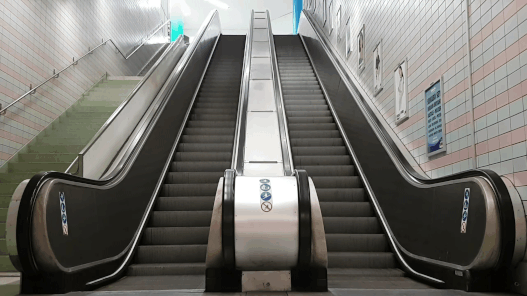 Jag nominerade denna version och förra veckan utsågs den till Featured media, den högsta kvalitetsutmärkelsen på Wikimedia Commons, och mitt första bidrag till en sådan. Idag är den dessutom på första sidan av hela sajten, som Media of the Day.