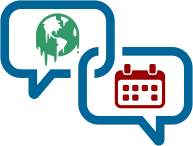 As part of the 30 lexic-o-days 2021, April 5-11 I am hosting a Climate lexeme week. During this thematic week the focus is to improve the lexemes derived from the Glossary of climate change. This is not a competition where points are given, instead this is a collaborative week when we help each other to improve these lexemes as much as we can.
In this 17-minute video, I explain the idea and what it is all about.
Join in and learn about lexemes!
Logo based on File:Translation – A till Å-colours.svg by André Costa (WMSE), File:Global Warming icon – Noun Project 4963.svg by Luis Prado and File:Simpleicons Business calendar-weekly.svg by SimpleIcon (all modified), CC BY 4.0.